W

hiskey in
Finnegan's.
Donal Finnegan has been procuring some of Ireland's finest Whiskey's for many years. Not just Irish Whiskey's of course, Scotches and Burbons too. You will find one of the finest selections available anywhere, here in Finnegan's of Dalkey.
Irish whiskey is one of those things we can be truly proud of, a product that can actually claim to be born here on a commercial level in 1608 at the Bushmills distillery in county Antrim.
That tradition has been respected and refined throughout the country and here in Finnegan's we are delighted to provide and serve for your pleasure, the very finest of them. Please take the time, as a whiskey lover, to read about just some of the whiskies we would be delighted to serve you!
I

rish Whiskey
Yellow Spot
A house favourite if for no other reason than it being genuinely local, Green spot pure pot still and Yellow spot 12yr old are without a doubt two of the finest whiskies available in Ireland today. Both whiskies still made and bonded under the instruction of the Mitchell wine merchant family of Sandycove, the only whiskey still produced in this manner in Ireland.
I

rish Whiskey
Midelton
Midleton very rare and Barry Crockett legacy, regarded by many as the Kings of Irish whiskies, are still produced in small batches with each bottle individually numbered and signed by the master distiller. Jameson, the best known and loved of Irish whiskies, born in Bow street in Dublin city and produced now in Middleton county Cork.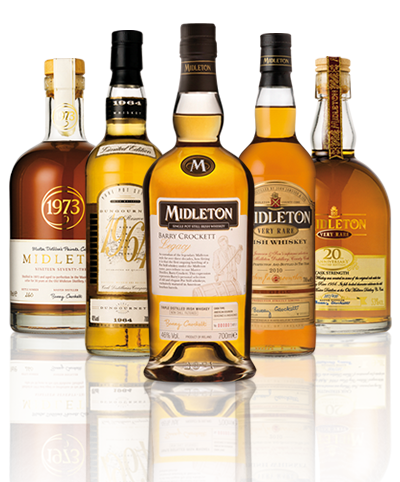 I

rish Whiskey
Jameson
The range includes Jameson 12yr old and 18yr old, Jameson Black Barrel, Gold reserve and the finest of all, the Vintage reserve, a selected blend of their oldest and finest vintages.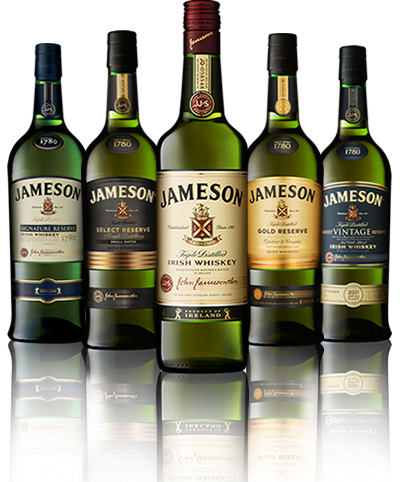 I

rish Whiskey
Powers
Power's too, have selected some of their finest reserves to produce two fabulous whiskies, a 12yr old and the John's lane small batch. Amongst connoisseurs the name Redbreast is held in high esteem. Discontinued in the late 1970's by Gilbey's wine merchants, it was resurrected some 20 years later by Jameson and it's range is truly stunning. We serve the 12yr old, 15 yr old, 21 yr old and a cask strength 12 yr old that changes with each year of bottling. The current vintage comes in at an eye watering 58.6 % and can only be described as luscious. For those looking for something very special we stock a limited reserve of Gilbey's original 12 yr old Redbreast, one of the few remaining batches in existence.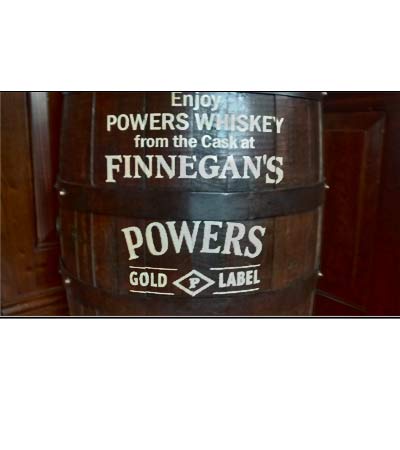 I

rish Whiskey
Tullamore Dew
Tullamore Dew, another old Irish favourite has expanded it's range to include a 10yr old reserve blend and a 10 yr old single malt, all of which are available here in Finnegan's. Paddy whiskey from county Cork was so named to celebrate their finest sale's rep, Paddy Flaherty, and they have produced an exceptional limited production 7 yr old centenary blend in his honour.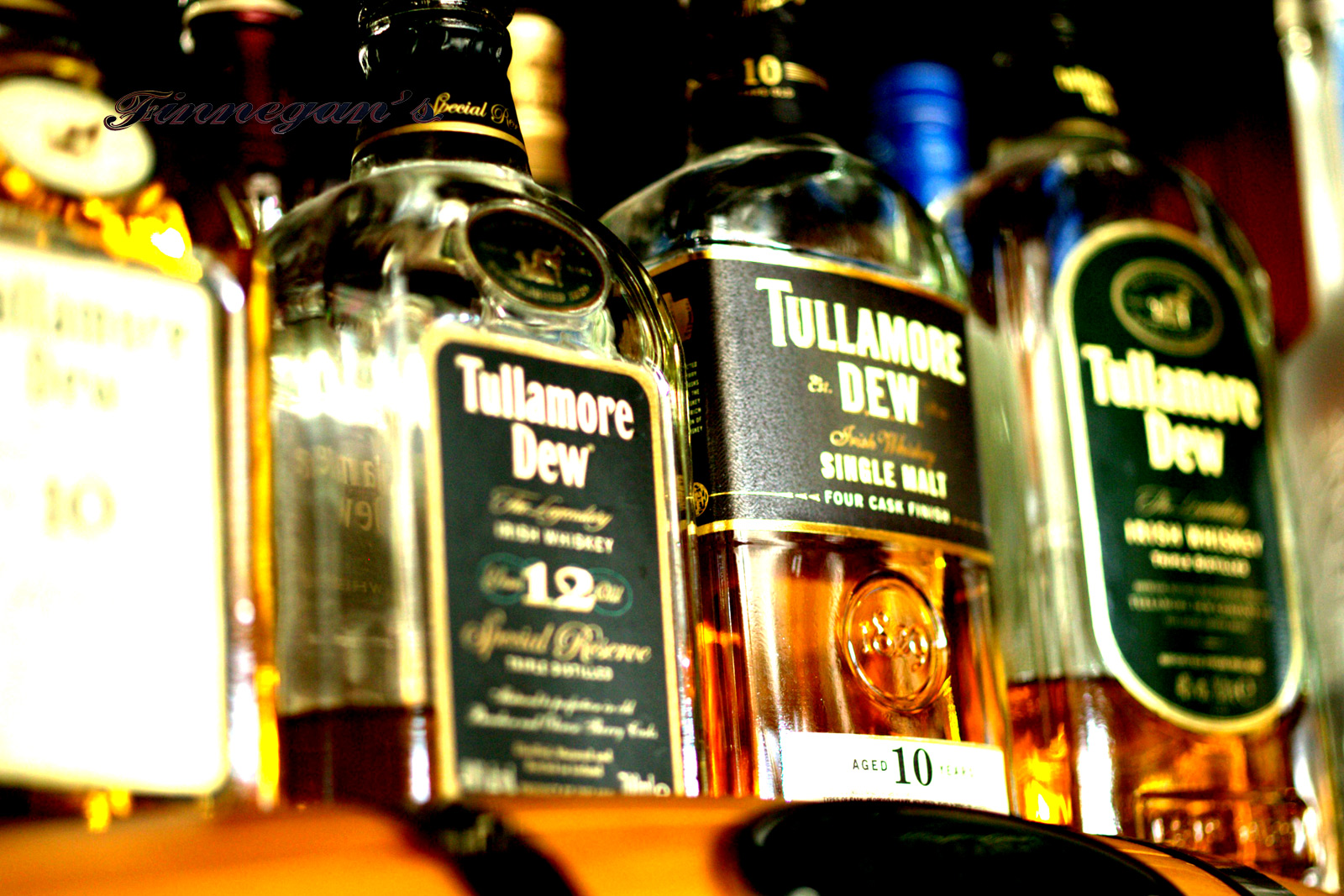 I

rish Whiskey
Bushmills
From the Antrim coast we have Bushmills, the oldest distillery in the world. Apart from their internationally renowned white label, we serve Black Bush, Bushmills 10yr old single malt and the limited edition Bushmills 1608, celebrating the year of the distillery's foundation.
We are constantly adding to our range of fine Irish whiskies and recent arrivals include, The Irishman range, featuring a single malt and 12 yr old blend , as well as The writers tears, an elegant pure pot still, which also comes in a cask strength edition of 53%.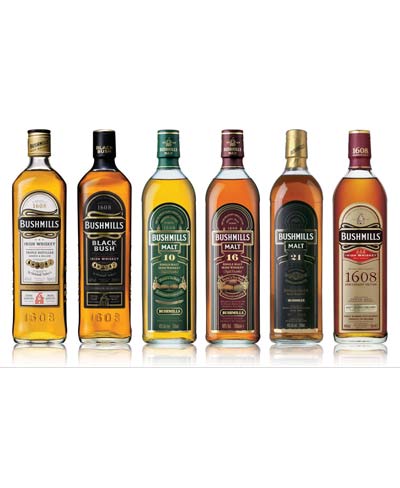 We also serve a selection of some of the finest Scotch malts including Ardbeg and Laphroig 10 yr olds, two intensely aromatic peated malts from the isle of Islay. While Macallan and Glenmorangie are among the most loved of all Scotch whisky, The Arran and Robert Burns are lesser known but equally fine single malts that can sit proudly on the top shelf alongside them. We hope you can spend some time with us savouring some, or given time, perhaps all of these exceptional whiskies!