E

vents in
Finnegan's
Finnegan's typically cater for events ranging from whiskey or wine tasting to charity events. If you're planning your event get in touch with us to see what can be done to assist you. We've had many types over the years and can reserve a section of the pub for this types of activity given some notice. We open early when Ireland are playing international Rugby or games of importance! As for most sporting events - please enquire, we have Sky Sports available in the pub with a number of large well-placed screens. We also provide table service.

Paul Finnegan takes questions from the media about cooking for the First Lady of the United States of America
or #FLOTUS as she's affectionately known - an "Event" of note.
-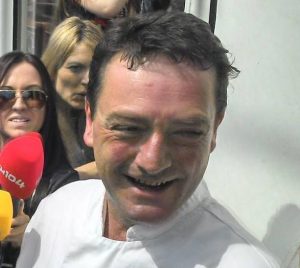 T

he Lobster Festival

The Lobster and Crab Jazz festival is almost an annual event. We change our menu to reflect this if Dalkey as a village goes ahead with the event. This event is not managed by Finnegan's and is not on every year. Please follow our facebook or twitter pages for updates closer to the date, which can be around July. Examples are taken by some of our customers of how we like to serve our Lobster, Crab and all that Jazz - Kindly taken by Mark and Andrew.