Finnegan's
in Dalkey
Over the 45 years that have elapsed since, the pub has seen several renovations and transformations but has always retained an identity that is palpable to both locals and visitors. That identity is due in no small part to the family ethos of the pub, with Dan's sons Donal, Paul and Alan all involved in the management of the business. Another brother Peter successfully ran his own branch of Finnegan's in Valencia, Spain for twenty years, while Dan's brothers Ned, James and Hugh were all proprietors of well known pubs in Dublin and Wicklow. It can't be argued there isn't pedigree!
Major reformation work took place in 2001 and 2005, but throughout, the original Victorian facade and many of the interior features, including the ornate roof and back bar, remained untouched. Indeed a photograph of the pub in 1910 when it was known as O' Meara's, shows the facade exactly as it is now and many of the colourful characters in the shot have family members who still frequent the bar!
In 1989 Paul Finnegan opened his kitchen, serving those first lunches that introduced the pub to a whole new wave of customers. Nearly three decades on our reputation is now based as much on the quality of our food as it is on the bustling evening and weekend trade for which we are proudly known. Our family along with our fantastic staff look forward to your visit to our pub and hope you enjoy our website. See you soon!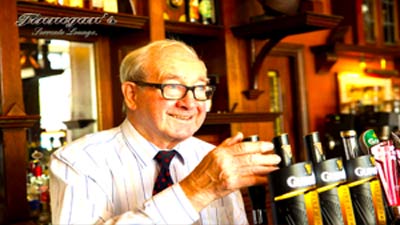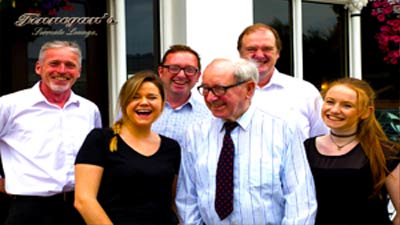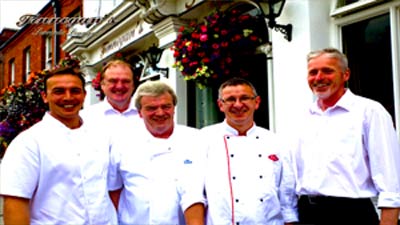 The Boss
Dan Finnegan founded the business in 1970.
The Finnegan's Team
Aside from the core family team, Finnegan's also rely on a core staff most of which have been with us for many years. Essential to any organisation we are fortunate to have some of the best, operating in such an eclectic and busy daytime and nighttime environment - most importantly, there's always time to laugh..
The Lunch Team
Our kitchen is led by Head Chef, Dermot and his team. Our menu changes every day so please check with us if there's something in particular you are looking for. A sample menu is available on our food page. All food is cooked to order.